Philatelic Museum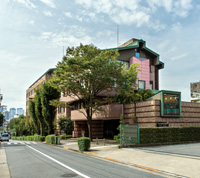 Address
1-4-23 Mejiro Toshima-ku, Tokyo 171-0031
Phone 
: +81-3-5951-3331
Fax 
: +81-3-5951-3332
E-mail
: info@kitte-museum.jp
Transportation 
: From JR Yamanote Line,
Mejiro Station (3 minutes)
Takadanobaba Station (7 minutes)
Car Parking Space: Aavailable only for handicapped people
The Admission Fee: Adults: 200 yen, School children: 100 yen, free for the handicapped
Hours: 10:30 – 17:00
Holiday: Mondays, year-end holidays, for exhibition preparation.
1F


Exhibition Zone and Shop Zone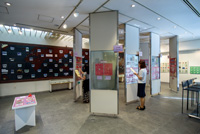 On the first floor, there are two zones : Exhibition Zone and Shop Zone. In the former, you will see several standing frames for stamps, which are nicely arranged according to the topical theme. Behind them a great wall, all covered with the map of the world, and a detailed map of Japan. Many stamps, enlaged by color copy machine, are to be attached to the places on the map which are most suitable related to. In front of the wall map, there are several cases for album leaves so that you may see the stamps closely and read the comments rather easily. The exhibition in this zone is changed evey three months according to the year schedule.
Near the exhibition room is an Amusement Corner. There are some computers which may be freely handled by the visitors. You can make a post card within a stamp of your self-portrait. Also there are some many museum goods for sale, some made in Japan, others imported from abroads.
In the Shop Zone, you will see the new issues of the world, as well as old issues of many countries or of Japan. In short, it is a stamp shop where you can also buy philatelic accessories and publications.
2F


Library Zone

The Library Zone i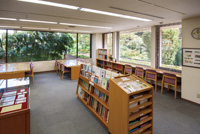 s on the second floor, where you can read philatelic books and magazines, some freely, others through the librarian. There are about 13,000 books and 2,000 magazines, controlled by a computer.
A space is secured for the late Mizuhara Meiso's memorial. He is the founder. Here his work room is reproduced with his desk and chair.
3F 


Exhibition Room

The third floor is a relatively large room for Exhibitions, Lectures, etc. The exhibition of philatelically high level is shown here, for a comparatively short period.